As SEMC became more reliant on technology and the risk of potential downtime included the possible interruption of care, Administrator Kevin Sellheim, began to partner with Thriveon in 2008 for IT support At about this same time, government regulations to protect the privacy and security of patient records (HIPAA) required the creation of a more robust IT framework and strategy to comply with the law and provide appropriate access to medical professionals. Thriveon has been at SEMC's side throughout their digital transformation, providing business level guidance and IT department service that has allowed the medical center to use technology to deliver a high level of care to patients.
"Thriveon has been working with us and guiding us along the way," says Sellheim. "We tell them - these are the outcomes that we want, and this is what we want the process to be. We're able to keep up with the latest trends and get more specialty services to patients."
vCIO Input Results in Sound Technology Decision Making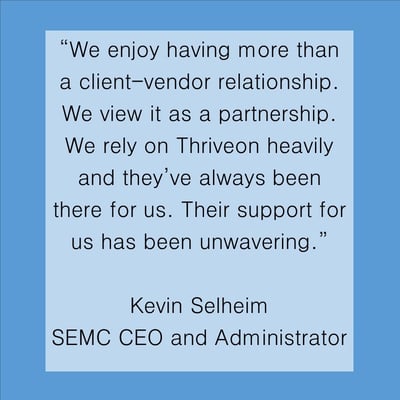 The health of the SEMC network is one focus of Thriveon's work with the medical center. Design and specifications for hardware were aligned with the organization's goals for growth. A virtualized server system has been one of the components that has allowed the organization to manage costs while providing scalability. During the early days of their partnership, Thriveon helped SEMC to understand the implications of HIPAA from a technology point of view, recommending backup and disaster recovery measures to meet their needs for compliance and uninterrupted service. Most recently, Thriveon worked side by side with SEMC staff as they converted to a new EHR (electronic health record) software.
The business level guidance that Thriveon has been providing through a dedicated vCIO is extremely valuable to Kevin Sellheim. The vCIO takes technical data about network status, and merges it with the medical center's short and long term goals to create an IT roadmap to guide decisions for future investments. The vCIO also meets with specific departments when they have upcoming initiatives that will integrate with IT.
"We have Thriveon in at the ground level rather than after the fact," says Sellheim. "It's just natural to get them involved."
One way that this hospital administrator quantifies the value of the services that Thriveon brings to the organization is measured in expertise. If they had to internally staff the same level of IT services it would cost a lot more than what they pay in their fixed monthly fee. The overriding value that Sleepy Eye Medical Center has gained from working with Thriveon is a collaboration that has enabled the organization to meet industry challenges, and achieve its goals for improving the ways that it serves the community.
"We enjoy having more than a client-vendor relationship. We view it as a partnership,' says Sellheim. "We rely on Thriveon heavily and they've always been there for us. Their support for us has been unwavering."