Managed IT Services for Banking & Finance
We help financial firms provide an amazing customer experience through our leading managed IT services.
Talk with an Expert
Proactive IT Makes Financial Firms More Efficient
Deliver an Exceptional Customer Experience
In the banking world, everything is centered around the customer. If you keep them happy, you'll usually have their business for life.
Our expert team helps financial institutions leverage technology to provide their customers with the best service experience possible.
Download Managed IT eBook
Align Your IT Strategy with Your Business Goals
We blend automation with human expertise to help you create a memorable service experience that helps attract and retain long-term customers.
Maximize Transaction Efficiency
An optimized workflow allows for greater transaction volume.
Adopt New FinTech
New, exciting technologies can improve customer experience.
Integrate Internal Systems
A user-friendly experience means happier customers.
Maintain Regulatory Compliance
You'll always be in compliance with industry regulations.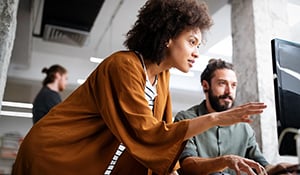 OUR PROVEN PROCESS
Managed IT Services that Help Companies Thrive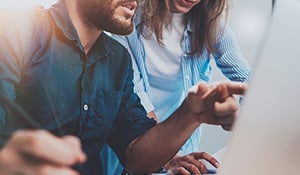 At Thriveon, we believe that a proactive IT approach empowers businesses from all industries to be more successful. As your trusted IT partner, we don't simply fix the things that break — we help improve your bottom line and reach your business goals.
Proactive IT Services Overview
Proactive Managed IT Services to Help Companies Thrive
Let Us Show You What Your IT Service Should Be Doing
We've helped businesses become more successful by creating and implementing strategic, goal-focused IT plans using industry best practices since 2002. With a proactive approach to managed IT services, you can eliminate issues before they start, securely support your business technology, and scale your organization the right way.
Schedule Consultation
CALL US: (855) 760-2807
Our Banking and Finance Partners
What are the key challenges that banking managed IT services aim to address?
Banking managed IT services focus on addressing key challenges such as cybersecurity threats, compliance with financial regulations, data management and ensuring high availability of services. These services are designed to provide robust and secure IT infrastructures that can withstand the unique demands of the banking industry.
How do IT services for banks differ from other industries?
IT services for banks are tailored to meet the specific regulatory, security and data integrity requirements that are unique to the financial sector. This includes specialized encryption methods, multi-factor authentication and stringent data backup and recovery protocols.
What role does banking managed IT support play in cybersecurity?
Banking managed IT support plays a critical role in maintaining a secure environment for financial transactions and customer data. This includes regular security audits, firewall management, intrusion detection systems and immediate response to any security incidents to minimize risks.
How can banking managed IT solutions help in regulatory compliance?
Banking managed IT solutions are designed to help financial institutions meet complex regulatory requirements such as GDPR, Dodd-Frank and SOX. These solutions include compliance monitoring tools, secure data storage and encrypted data transmission methods.
What are the benefits of outsourcing managed IT services in the banking sector?
Outsourcing managed IT services allows banks to focus on their core business functions while experts handle the IT infrastructure. This ensures high availability, improved security, cost-effectiveness and scalability tailored to the needs of the banking industry.
How do managed IT services contribute to customer experience in banking?
Managed IT services ensure that banking platforms are always available, secure and efficient, thereby contributing to a seamless customer experience. This includes optimizing server performance, ensuring secure transactions and providing 24/7 customer support.
What types of disaster recovery solutions are available through banking managed IT services?
Banking managed IT services offer comprehensive disaster recovery solutions that include data backup, failover systems and quick recovery options to ensure minimal downtime and data loss in case of any unforeseen events.
How can banks ensure data integrity with managed IT services?
Managed IT services for banks include robust data integrity checks, secure data storage solutions and real-time monitoring to ensure that the data remains consistent, accurate and secure at all times.
What kind of scalability do banking managed IT solutions offer?
Banking managed IT solutions are highly scalable, allowing financial institutions to easily expand or contract their IT resources based on demand. This ensures that banks can adapt to market changes efficiently without compromising on service quality.
How do managed IT services help in fraud detection and prevention in banking?
Managed IT services employ advanced analytics and machine learning algorithms to monitor transaction patterns and flag any suspicious activities. This enables banks to take immediate action, aiding in fraud detection and prevention.