Managed IT Services for Construction & Design Firms
Optimize project management and cash flow for your design or construction company while keeping your data safe.
Talk with an Expert
Streamline Operations for Job Sites
Poor communication can make managing construction and design projects a challenge. The right construction IT support will prevent outdated, unsecure or inefficient technology from disrupting the workflow between your office and the job site.
Let Thriveon integrate your communication and project management capabilities to maximize profit.
Download Managed IT ebook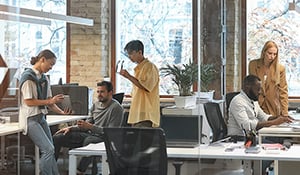 Align Your IT Strategy with Your Business Goals
Construction IT services blend automation with human expertise to maximize efficiency and minimize unseen costs
Provide Accurate Estimates
Better estimates mean higher job profitability.
Optimize Worker Productivity
Integrated systems allow for easier task management.
Accurately Capture Expenses
Precise expense tracking means no money is left on the table.
Effectively Manage Change
Enhanced communication simplifies order changes.
OUR PROVEN PROCESS
Construction IT Services that Help Companies Thrive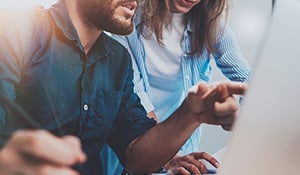 At Thriveon, we believe that a proactive IT approach empowers all businesses including those in the construction industry. As your trusted IT partner, we don't simply fix the things that break — we help you improve your bottom line and reach your business goals.
Proactive IT Services Overview
Proactive Managed IT Services to Help Companies Thrive
What IT Support for Construction Companies Should Look Like
Build more and worry less. Since 2002, we've helped construction firms become more successful by creating and implementing strategic, goal-focused IT plans using industry best practices. With a proactive approach to your managed IT services, you'll be able to:
Schedule Consultation
CALL US: (855) 760-2807
Eliminate issues before they occur.
Securely support your business technology.
Complete jobs more efficiently.
Scale your organization the right way.
Our Design and Construction Partners
What are the primary IT challenges in the construction industry?
The construction industry faces unique IT challenges such as project management complexities, data security, and the need for real-time communication. Construction managed IT services are tailored to tackle these specific challenges, ensuring seamless operations.
How can IT services for construction improve project efficiency?
IT services for construction focus on enhancing project efficiency through advanced software solutions for project management, real-time data analytics, and cloud-based collaboration tools. These services help in keeping projects on schedule and within budget.
What role does construction managed IT support play in equipment and resource management?
Construction managed IT support is crucial for effective equipment and resource management. It helps in tracking the utilization and availability of resources, thereby aiding in optimal allocation and reducing wastage.
Can construction managed IT solutions assist in compliance and safety measures?
Absolutely, construction managed IT solutions are designed to ensure that all operations comply with industry safety standards and regulations. This includes regular audits, data tracking, and automated compliance checks.
What are the advantages of outsourcing managed IT services in the construction sector?
Outsourcing managed IT services allows construction firms to focus on their core business activities while experts handle the IT infrastructure. This ensures a secure, efficient, and reliable IT environment tailored for the construction industry.
How do construction managed IT services enhance cybersecurity?
Construction managed IT services include robust cybersecurity protocols to protect sensitive project data and financial information. This includes firewalls, intrusion detection systems, and secure data encryption methods.
What types of data analytics are provided by IT services for construction?
IT services for construction offer sophisticated data analytics that provide insights into project timelines, budgeting, and resource allocation. These analytics are essential for making informed decisions and optimizing construction operations.
How can construction firms ensure data backup and recovery with construction managed IT solutions?
Construction managed IT solutions include comprehensive data backup and recovery plans. These plans ensure that crucial project data can be quickly recovered in the event of system failures or data loss incidents.
Are construction managed IT services scalable for growing construction firms?
Yes, construction managed IT services are highly scalable. They can be adapted to meet the needs of growing construction firms, whether it involves expanding into new markets or taking on larger projects.
How do construction managed IT services support remote project management?
Construction managed IT services offer remote project management tools that allow for real-time monitoring and control of construction sites from anywhere. This is particularly useful for firms managing multiple projects across different locations.