Revolutionizing IT Solutions for Manufacturing Companies
Embrace the power of Industry 4.0: connecting, securing and automating shop floors worldwide. Bring the latest in industry standards and productivity.
Talk with an Expert
Proactive IT Makes Manufacturers More Efficient
Modernize Your ERP Investment
Your investment in cutting-edge Enterprise Resource Planning (ERP) software is a testament to your commitment to efficiency and growth. However, the true value of this investment lies in your ability to harness its full potential and derive actionable insights and data that drive your manufacturing business forward.
At Thriveon, we understand that ERP systems can be complex and involve integrating internal systems and functions. Our experienced team can navigate these complexities efficiently and seamlessly integrate internal systems to maximize your facility's profitability and productivity. Our expertise is tailored to your industry's requirements, so your business can operate at its peak performance with optimized processes and data-driven decisions.
Explore a comprehensive case study showcasing how we transformed a manufacturing business.
Read Manufacturing case study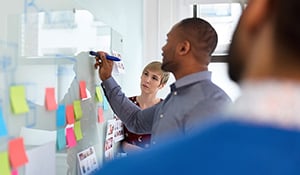 Align Your IT Strategy with Your Business Goals
The intricate balance between IT and your business objectives is crucial to driving success. That's why our approach goes beyond mere data collection. We harmonize cutting-edge automation and insightful human expertise to provide robust manufacturing analytics, a cornerstone for informed decision-making so you can stay ahead of the competition. This alignment of IT strategy with business goals empowers you to navigate complexities confidently.
Prevent Costly Downtime
Effortless, streamlined access to real-time machine data ensures your manufacturing business experiences uninterrupted operations. Our innovative IT approach not only minimizes downtime costs but also instills a sense of reliability and efficiency.
Maximize Shop Throughput
Reduced downtime directly translates to optimized production and increased productivity levels across your workforce. This will resonate throughout your supply chain and elevate your business to new heights.
Improve Internal Communication
Bridge the gap between the back office and the shop floor. Through enhanced internal communication, we cultivate an environment where ideas converge, solutions emerge and your manufacturing company moves forward cohesively.
Gain Powerful Insight
Whether spotting business tends, identifying production bottlenecks or optimizing resource allocation, out strategy meetings provide a continuous stream of consistent data to make impactful business decisions and shape your manufacturing enterprise.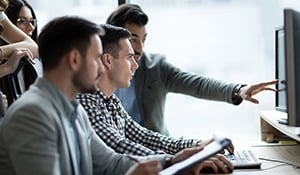 OUR PROVEN PROCESS
Managed IT Services that Help Companies Thrive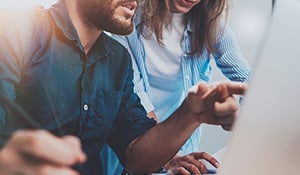 At Thriveon, we believe that a proactive IT approach empowers manufacturing businesses to become more successful. As your trusted IT partner, we don't simply fix the issues that break – we help improve your bottom line and reach your business goals, big and small. Embrace proactive IT strategies that will propel your manufacturing business to unparalleled success.
Proactive IT Services Overview
Proactive Managed IT Services to Help Companies Thrive
Let Us Show You What Your IT Service Should Be Doing
We've helped manufacturing businesses become more successful by creating and implementing strategic, goal-focused IT plans using industry best practices since 2002. With a proactive approach to managed IT services, you'll be able to eliminate issues before they arise, securely support your business technology and scale your organization the right way.
Schedule Consultation
CALL US: (855) 760-2807
Our Manufacturing Partners
What are the key IT challenges faced by the manufacturing industry?
The manufacturing industry faces unique IT challenges such as managing complex supply chains, ensuring cybersecurity, and integrating various technologies for production. Manufacturing managed IT services are designed to address these challenges by offering specialized solutions tailored for the industry.
How can IT services for manufacturing improve operational efficiency?
IT services for manufacturing focus on streamlining operations through automation, real-time data analytics, and integrated systems. This leads to improved efficiency, reduced downtime, and better resource management, all crucial for manufacturing success.
What role does manufacturing managed IT support play in maintaining machinery and equipment?
Manufacturing managed IT support plays a vital role in predictive maintenance of machinery and equipment. By monitoring system health in real-time, IT support can predict failures before they happen, reducing downtime and increasing productivity.
Can manufacturing managed IT solutions help in compliance and quality control?
Absolutely, manufacturing managed IT solutions are geared towards ensuring that all processes comply with industry standards and regulations. This includes quality control checks, data tracking, and regular audits to ensure compliance with both local and international standards.
What are the benefits of outsourcing managed IT services in manufacturing?
Outsourcing managed IT services allows manufacturing companies to focus on their core competencies while leaving the complex IT tasks to experts. This ensures a secure, efficient, and reliable IT infrastructure that is aligned with the specific needs of the manufacturing industry.
How do managed IT services enhance cybersecurity in manufacturing?
Manufacturing managed IT services include robust cybersecurity measures such as firewalls, intrusion detection systems, and secure data storage solutions. These measures protect sensitive data and intellectual property from unauthorized access and cyber threats.
What types of data analytics are offered by IT services for manufacturing?
IT services for manufacturing offer advanced data analytics that can provide insights into production efficiency, supply chain management, and customer behavior. These analytics are crucial for making informed decisions and optimizing various aspects of manufacturing.
How can manufacturing companies ensure data backup and recovery with managed IT services?
Managed IT services include comprehensive data backup and recovery solutions specifically designed for the manufacturing sector. This ensures that crucial data, such as production schedules and inventory levels, can be quickly recovered in case of system failures.
Are manufacturing managed IT solutions scalable to meet the needs of growing companies?
Yes, manufacturing managed IT solutions are highly scalable. Whether a manufacturing company is expanding its operations or entering new markets, managed IT services can be adjusted to meet the changing needs.
How do managed IT services support remote monitoring and control in manufacturing?
Managed IT services offer remote monitoring and control solutions that allow manufacturing companies to manage production lines, inventory, and even entire plants from a remote location. This is particularly useful for companies with multiple manufacturing sites.