Managed IT & Computer Support for Law Firms
Enhancing legal operations through streamlined research and billing for optimal efficiency. The Proactive Managed IT solution is the cornerstone of legal efficiency and operational success.
Talk with an Expert
Proactive IT Makes Law Firms More Efficient
Leverage Billable Hours to the Maximum
Successfully delivering legal services demands time, research and meticulous attention to detail, and every moment dedicated to managing complex legal cases is an investment in your clients' success. However, navigating the intricacies of legal cases also warrants just compensation for your dedication and effort. Our mission is to ensure it happens with efficient internal system management.
We recognize that every moment you spend on administrative tasks and internal processes, including managing case details, client communications and billing procedures, is time that could be channeled into more billable activities. With years of experience in the legal industry, our proficient IT team can help empower law firms to navigate their internal systems seamlessly. By integrating advanced billing technologies and leveraging industry-leading insights, we will strategically collaborate with your team to identify and minimize inefficiencies and implement tailored IT solutions that enhance your firm's overall productivity and operational efficiencies. This enables accurate and efficient client billing, which is crucial for maintaining trust and sustaining long-term client relationships.
View Legal Case Study
Align Your IT Strategy with Your Business Goals
The intricate balance between IT and your business objectives is crucial to driving success, so we forge a partnership that propels your firm toward success. We merge cutting-edge automation and insightful human expertise to provide impactful data management solutions for legal enterprises, ensuring you meet industry standards while delivering optimal service to your clients.
This alignment of IT strategy with your firm goals empowers you to navigate complexities confidently and serve your clients with the highest level of professionalism, security, and efficiency.
Enhance Data Security
Our solutions go beyond the basics, preserving the confidentiality of sensitive information with ironclad security measures that keep client data secure from cyber threats and unauthorized access.
Minimize Operational Risks
Embrace our managed IT services and drastically reduce the risk of data breach worries for your firm. Take a proactive step toward ensuring your firm's resilience against cyber threats by identifying vulnerabilities and implementing preemptive measures.
Amplify Research Capabilities
Our solutions provide your team with consistent, streamlined access to data. This propels your firm's knowledge advantage and allows you to make informed decisions efficiently so you can dedicate more time to analyzing insights and developing winning strategies for your clients.
Optimize Your Profit
With improved research capabilities and efficient data management, your firm can streamline case management processes, reducing unnecessary delays and increasing overall productivity. This leads to maximized billable hours and enhanced profitability.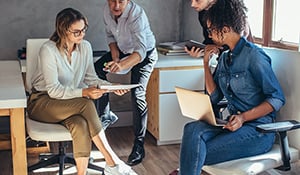 OUR PROVEN PROCESS
Managed IT Services That Help Companies Thrive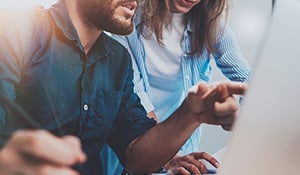 At Thriveon, we believe that a proactive IT approach empowers law firms to become more successful. As your trusted IT partner, we don't simply fix the issues that break – we help improve your bottom line and reach your business goals, big and small. Embrace proactive IT strategies that will propel your legal business to unparalleled success.
Proactive IT Services Overview
PROACTIVE IT SERVICES OVERVIEW
Let Us Show You What Your IT Service Should Be Doing
We've helped law firms become more successful by creating and implementing strategic, goal-focused IT plans using industry best practices since 2002. With a proactive approach to managed IT services, you'll be able to eliminate issues before they arise, securely support your business technology and scale your organization the right way.
Schedule Consultation
CALL US: (855) 760-2807
What are the unique IT challenges that law firms face?
Law firms face specific IT challenges such as maintaining client confidentiality, ensuring data security, and complying with legal regulations. Law firm managed IT services are designed to address these unique needs by providing specialized solutions that safeguard sensitive information and ensure operational efficiency.
How do IT services for law firms enhance data security?
IT services for law firms prioritize data security to protect sensitive client information and case files. This includes implementing advanced encryption algorithms, secure data storage solutions, and robust firewall protections, all managed by specialized IT professionals.
What role does law firm managed IT support play in daily operations?
Law firm managed IT support plays a crucial role in the smooth running of daily operations. From managing secure email communications to ensuring that legal research tools are always accessible, IT support ensures that attorneys can focus on their cases without worrying about technical issues.
Can law firm managed IT solutions help with compliance requirements?
Absolutely, law firm managed IT solutions are tailored to help firms meet the stringent compliance requirements related to data protection and client confidentiality. This includes regular audits, compliance checks, and secure data handling procedures.
What are the benefits of outsourcing managed IT services for a law firm?
Outsourcing managed IT services allows law firms to focus on legal work while leaving the technical aspects to experts. This ensures a secure, efficient, and reliable IT infrastructure that meets the specific needs of the legal industry.
How do managed IT services improve client communication for law firms?
Managed IT services offer secure and efficient communication platforms that are crucial for attorney-client interactions. Whether it's secure email systems or encrypted video conferencing, IT services ensure that communications are confidential and reliable.
What types of cybersecurity measures are included in law firm managed IT services?
Law firm managed IT services include a range of cybersecurity measures such as multi-factor authentication, intrusion detection systems, and regular security audits to protect against unauthorized access and data breaches.
How can law firms ensure data backup and recovery with managed IT services?
Managed IT services for law firms include comprehensive data backup and recovery solutions. These are designed to safeguard important legal documents and client data, ensuring that they can be quickly recovered in the event of a system failure or accidental deletion.
What scalability options do law firm managed IT solutions offer?
Law firm managed IT solutions are highly scalable, allowing firms to adjust their IT resources according to their needs. Whether a firm is expanding or downsizing, managed IT services can be easily adjusted to meet changing requirements.
How do managed IT services assist in case management for law firms?
Managed IT services offer specialized case management software that helps in organizing, tracking, and managing legal cases. These tools are designed to improve efficiency and provide attorneys with easy access to all the information they need.