Why Thriveon?
At Thriveon, we help not for profits attain World Class IT. We get that operating a not for profit is hard work. You're needing to do more with less, prevent embarrassing security events, and advance your mission all on a tight budget. Our not for profit clients face the same challenges, except rather than getting bogged down, they are able to leap ahead with the proper IT mission.
So what is the proper IT mission? Unfortunately all IT solutions feel the same. Whether internal staff or an outsourced company, they produce the same lack luster results at the end of the day. There are too many disruptions, sluggish performance, surprise outages, spiraling costs, ransomware holdups and technical mumbo jumbo answers.
Chances are you've talked to others not for profit leaders in hopes you would discover these lack luster results weren't happening in their companies and they found a way out. Only to find they too are plagued by the same daily IT woes. So now your left wondering is this really IT normal?
We believe IT ought to help you accomplish your mission. We have spent over 15 years creating and perfecting our ThrivCare Process that when we take each not for profit client through produces World Class IT Results. Our clients find that they can do more with less when IT produces World Class results because it takes less employees to support the same mission. They are delighted to see IT helping them increase the number of people their mission helps, because the IT systems are a unified part of their workflow rather than a bottleneck. They rest easier knowing ransomware, spam, phishing and intrusions are being prevented so they don't have to deal with an embarrassing security event that would erode the trust their organization has in their community.
This isn't the case for most not for profits. What we find when we meet with not for profit leaders - whether they have an outsourced managed IT service provider or an internal staff of 1 to even 20 - is that they're plagued with IT surprises that hamper their company, frustrating their employees and increasing organizational cost. They fear loss of reputation, when the next ransomware, spam, phishing or intrusion slips through. Overwhelmed by the spiraling costs of IT and uncertain what to do next. All too often business leaders think if they just hire a different person or a different IT provider results will change, and they find out too late that they just don't.
That's where Thriveon comes in. Our proven ThrivCare process will take you from circling in the whirlwind of IT issues that are holding your company back. To doing more with less, advancing your mission, and preventing an embarrassing security event.
To your success,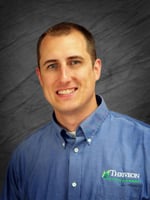 Sam Bloedow
CEO & Founder